The Massage Gun Pro: An Effective and Affordable Way to Reduce Muscle Soreness
DISCOUNT-50%
Exclusive Promo with Free Shipping
Introducing the Massage Gun Pro: Affordable Way to Get a High-Quality Massage
The Massage Gun Pro is an effective and affordable way to reduce muscle soreness that will leave you feeling like a new person.
Designed with the latest technology, this massage gun has some of the most innovative features on the market today.
It provides deep-tissue relief by using high frequency vibrations to penetrate deeply into your muscles so they can be more easily stretched and loosened up.
The best part? You don't even have to go through all of those expensive trips to a masseuse!
Last Day! Exclusive Promo with Free Shipping
What Makes the Massage Gun Pro Different From Other Massage Tools?
Powerful 3200 rpm High Speed Impact with 6 Speeds
Say goodbye to tight muscles and soreness with the MassageGun Pro. This next-generation technology simultaneously increases blood flow while massaging your affected areas.
4 Interchangeable Massage Heads
There are four types of massage heads for use with the Massage Gun Pro to meet your specific needs.
Ultra Compact and Lightweight
With our MassageGun Pro, not only can you get the amazing benefits of a massage wherever you are, whenever you want it, but it also helps keep your muscles tight and in shape too.
Ultra-Low Noise
This quiet massage gun is perfect for people who are looking to receiving a deep tissue massages without drawing attention.
Long Battery Life
Each charge lasts for 180 minutes and provides relief from soreness caused by muscle work or stretching.
LCD Touch Screen
The MassageGun Pro features a LCD Touch Screen that helps you easily adjust the strength, speed, and length of your massage.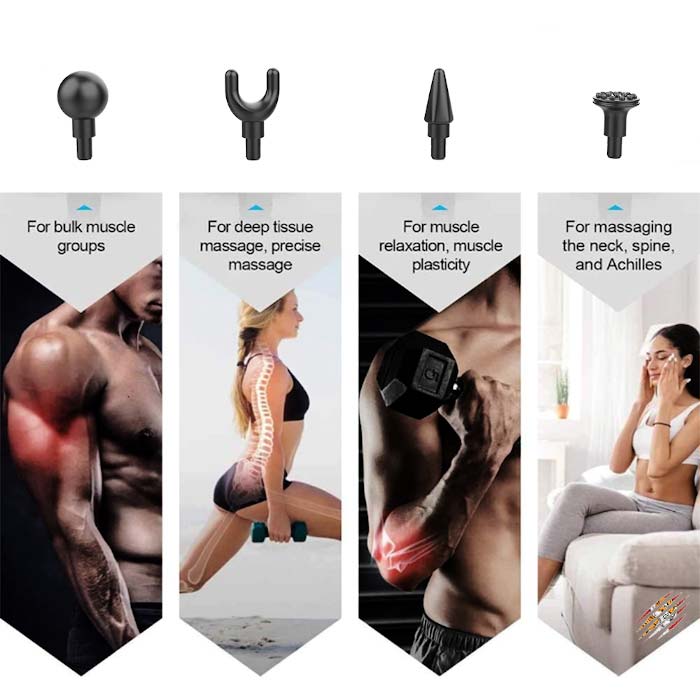 NEXT GEN TECHNOLOGY – The MassageGun Pro is the next generation of high-frequency muscle massagers. It's a portable, lightweight device that delivers an effective massage anywhere you need it.
EASY TO CARRY ANYWHERE – The MassageGun Pro is ultra compact pocket size partner and can be carried anywhere with ease. It weighs less than a pound and fits in any travel bag or suitcase so you can use it on the go!
4 MASSAGE HEADS WITH 6 SPEEDS – With four different massage heads, you have six speeds to choose from. Use the soft head for soothing relief or the hard head for deep tissue work. You'll enjoy all kinds of benefits from this versatile tool!
ULTRA COMPACT AND LIGHTWEIGHT – Weighing only 0.9 pounds and ultra-low noise (45dB), this massager packs plenty of power into its compact design, making it easy to carry around wherever you go! Plus, at just 2 inches tall by 3 inches wide, there's no reason not to take it with you whenever you travel!
LONG BATTERY LIFE – Charge less, use more, 180 minutes pleasure and relief from one charge.
EASY TO USE FOR SELF-MASSAGE – Designed for arm's length use, this ergonomic and affordable massage gun can target muscles not easily reached on the back or arms.
The Massage Gun Pro Is The Most Affordable Way To Have Professional-Level Massages Whenever You Want
Whether you're looking for an easy way to relieve tight muscles and soreness anytime, or a way to help speed up recovery after injury, the MassageGun Pro with 3200 rpm High Speed Impact is your perfect solution.
With its powerful 6 speeds and interchangeable massage heads, it's designed with all of your needs in mind.
It also comes at an ultra-low noise level so that you can use it anywhere without being bothered by sound.
Stop struggling through pain anymore! Get relief now with this next generation technology today and take advantage of 50% OFF your purchase and FREE WORLDWIDE SHIPPING.